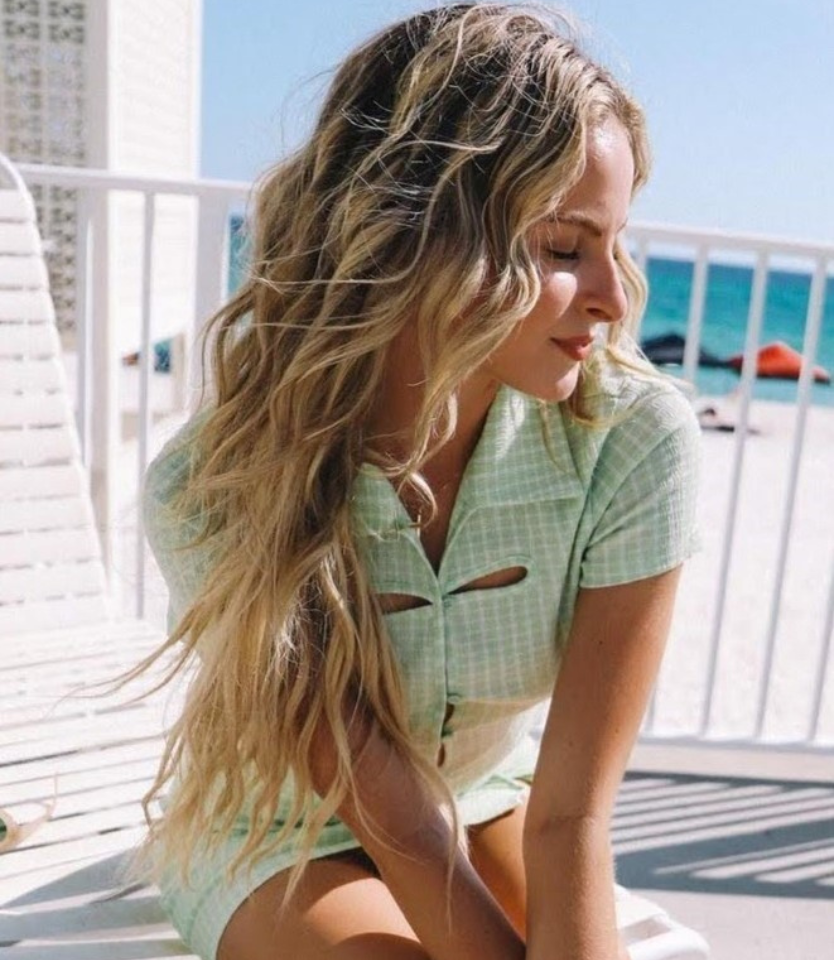 With so many different types of hair extensions out there, how do you know which are right for you? Here's a few things to keep in mind when choosing the best type of hair extension for your needs:
Consider the type of hair you have. For example, clip-in extensions may not be the best option if you have thin or fine hair as they could cause damage. Instead, look into tape-in or halo extensions.
Think about the length you want. Do you want to add a few inches or go for a dramatic change? Again, this will help narrow down your options.
Decide on a budget. Hair extensions can range in price from fairly affordable to quite luxurious. Knowing how much you're willing to spend before you start shopping is important.
Consider your lifestyle. If you lead a fairly active lifestyle, you'll want to choose an extension style that can stand up to your activities.
What Type Of Hair Extensions Are The Best For Me?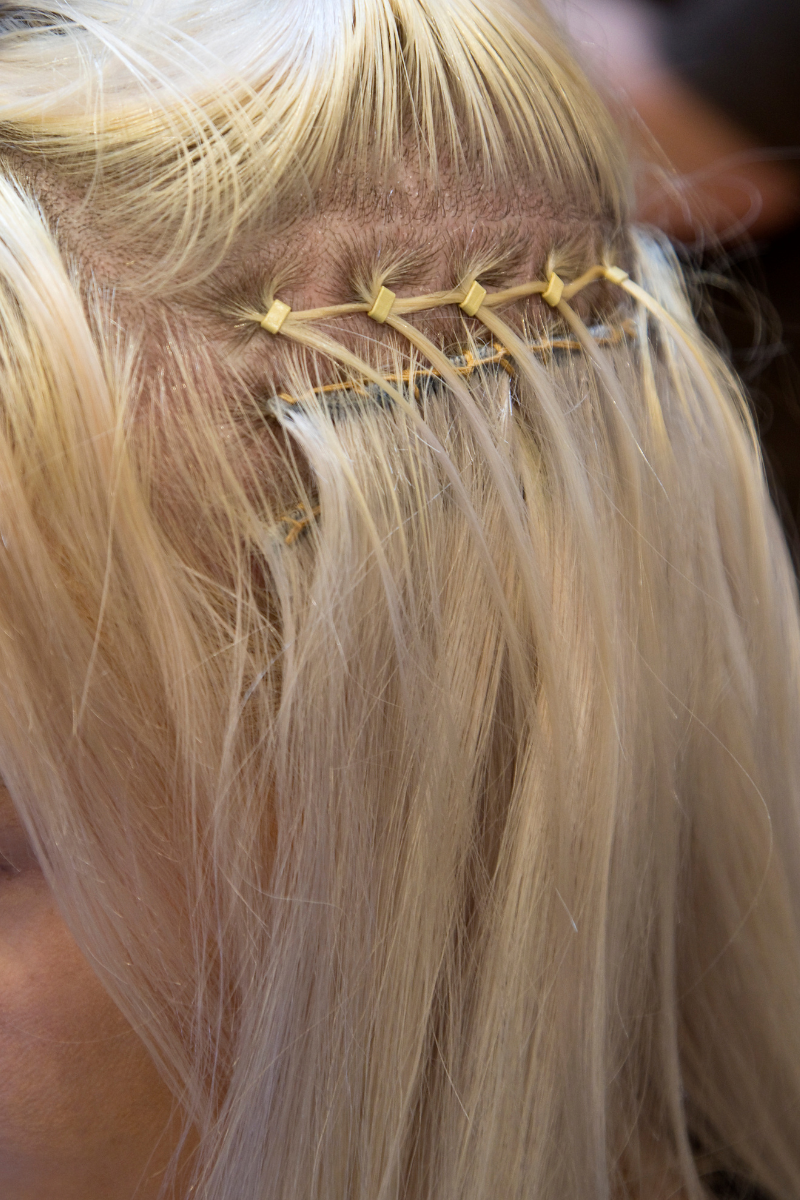 Beaded Weft Extensions
Beaded weft extensions are hair wefts that are sewn with tiny beads to your natural hair. It's one of the fastest, least damaging hair extension application methods. Either hand tied hair extensions or machine tied hair extensions can be used with this method depending on your hair goals and needs. This type of extension is one of the least detectable type of extension in your natural hair. Swim, Sleep, Exercise – they work with your lifestyle. These are the most popular type of extensions at Paradigm Salon & Spa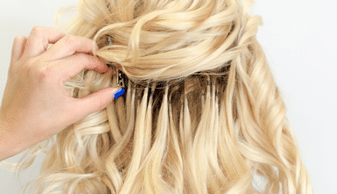 I-Tip Hair Extensions
A group of individual strands of hair are applied your hair with a flare bead. With proper care, I-tip hair extensions can last for 6 – 8 weeks.
The extensions can be reused, so won't have to purchase new hair every time you have them redone.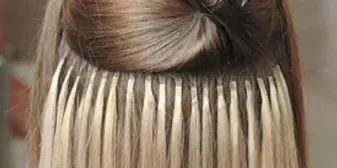 K-Tip Extensions
A group of individual strands of hair are fused or bonded to your hair with keratin (the same protein that your hair is made from). With proper care, fusion hair extensions can last for a long time. When you come in to have the extensions adjusted, the old keratin bond will be carefully removed, then new bond is added to the hair .
The extensions cannot be reused, so you'll have to purchase new hair every time you have them redone.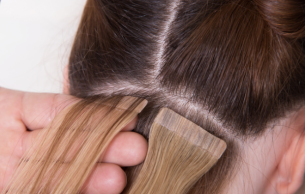 Tape-in Extensions
Tape-in hair extensions are attached to sections of your own hair using a double- or single-sided tape. Styling your hair down helps keep these extensions undetectable in your hair.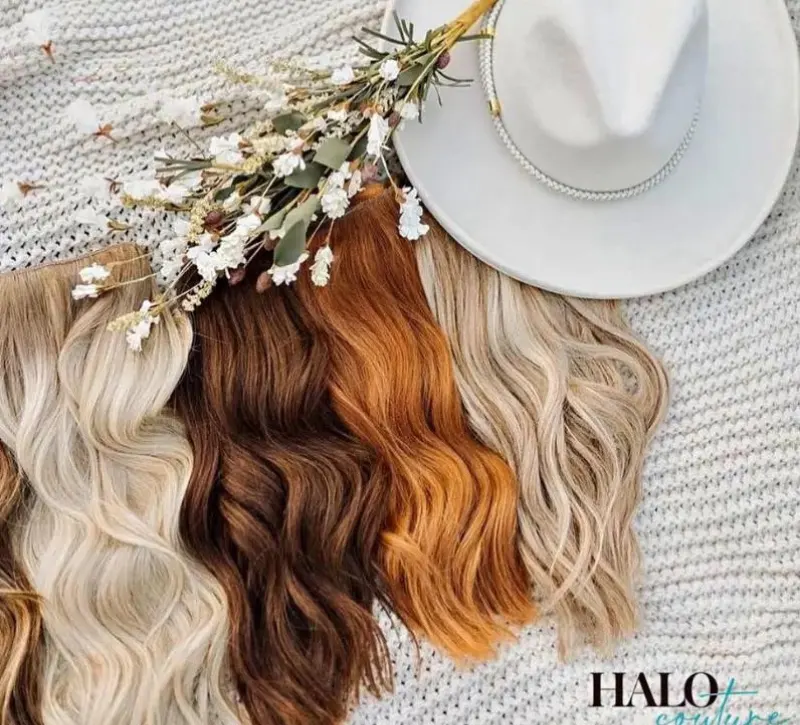 Halo Couture
Designed with comfort in mind, the easy application of the HALO® will transform your hair in a matter of seconds. The layered HALO® is an innovative extension that is non-damaging and virtually undetectable. Uniquely designed and unlike any other product available, each piece has 2-3 built in, gradual layers, providing the most natural blend with your own hair.

Once you've considered all of these factors, you should better know which type of hair extension is right for you. Here are a few of the most popular types to choose from:
Clip-In Extensions
Clip-in hair extensions are one of the most popular types on the market and for a good reason. They're relatively easy to apply and remove, so they're great for those who often want to change their look. They're also one of the more affordable options, making them a good choice for those on a budget.
Hand-Tied Extensions
Hand-tied hair extensions are the hottest extensions on the market and we have them here at Paradigm Salon and Spa. They're a great choice for those with thin or fine, thick hair. They're not as easy to remove as clip-ins, but they're much more comfortable and natural-looking.
Let A Professional Hair Stylist Help You Choose The Right Extensions

Choosing the right type of hair extension is an important step in getting the perfect look for you. With so many market options, knowing where to start cannot be easy. So it would be best if you considered going to a professional hair specialist to help you decide what is best for you. Not only can they help you choose the right type of extension, but they can also color-match and style them to perfection.
Get Your Hair Extensions Done At Paradigm Salon & Spa

If you're looking for hair extensions in Panama City or Panama City Beach, FL look no further than Paradigm Salon & Spa. We specialize in giving the best haircuts and coloring treatments, plus we can help you get the best hair extensions.
We'll work with you to find the perfect style and color to match your needs and help you achieve the look you've always wanted. Our experienced stylists will ensure that your extensions are applied correctly and look natural.